Prepaid24.com in Zimbabwe
Prepaid24.com might soon be available in Zimbabwe. In the meantime, Zimbabwean Residents living and working in South Africa are able to buy Zesa prepaid electricity and NetOne, Econet and Telecel airtime for family and acquantances living back home in Zimbabwe.

Take a minute to sign up and you will be transacting from a shopping basket in your own secure MyPP24Profile in a jiffy. You will receive a mail with all the tokens within minutes! You also have the flexibility to choose between payment options.*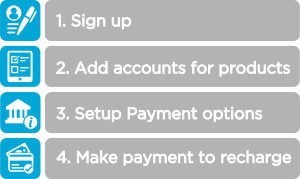 Prepaid24 offers a variety of payment methods:
EFT payments
Payment via EFT is quite simple. All you have to do is set Prepaid24 up as a beneficiary using our banking details, and then make a payment using the unique reference number that is generated after you have followed the transacting process.
SmartFund payments
The SmartFund is a universal virtual facility for all your prepaid product purchases and is unique to Prepaid24. This feature allows you to have funds ready for your product purchases without having to log into your online banking. You can top-up your SmartFund via EFT payments, or by means of a Credit Card top-up. The SmartFund is a popular option for clients, as it allows for instant product delivery.
Credit Card payments
The Credit Card payment facility is available for SmartFund top-ups ONLY. You will be able to top up your SmartFund by providing your Credit Card details, and your details will be saved in your secure MyPP24Profile where you will be able to top up your SmartFund if need be.
Recharges are done at the current exchange rate + 5% service fee (incl VAT on service fee only)
Unsure about the RAND amount to pay for your DOLLAR? Use our handy currency converter below.
Enter the USD amount required below and press 'Convert'.