Recharge electricity for Eskom, Ekurhuleni, Johannesburg, Tshwane and other municipalities effortlessly
We appreciate that your time is valuable and would like to accommodate your specific needs in making sure your purchase is processed as quickly and smoothly as possible.
If you have only one electricity meter or cellphone to recharge, or you need electricity right now, we suggest that you follow the basic Single Meter process.
If we may, we would like to invite you to try this method as a first purchase – even if for a small amount, just to get a "feel" for our solution.
Ran out of electricity and the shops are closed or your municipality is offline? Ensure it never happens again with our Emergency Electricity™ option!

Electricity Providers:
Purchasing electricity has never been this easy!
Once you have signed up, set Prepaid24 up as a beneficiary in your own bank with payment reference E and your cell number E.g. E0820011001, and make payment to Prepaid24's account for the amount you want to recharge.
Once we receive the payment, you will receive the tokens via SMS and email.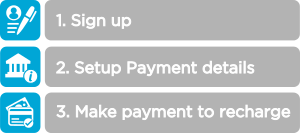 If you choose to do this basic recharge, we will gladly assist you in adding more devices and products to your profile once your first transaction has been completed successfully and you are ready to add more devices and products.
Safe, secure, simple!
Would you prefer to recharge more than one meter with a single payment? Take a minute to sign up and you will be transacting from a shopping basket in your own secure MyPP24Profile in a jiffy. You also have the flexibility to choose between payment options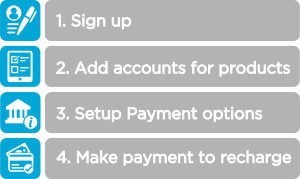 Prepaid24 offers a variety of payment methods:
EFT payments
Payment via EFT is quite simple. All you have to do is set Prepaid24 up as a beneficiary using our banking details, and then make a payment using the unique reference number that is generated after you have followed the transacting process.
SmartFund payments
The SmartFund is a universal virtual facility for all your prepaid product purchases and is unique to Prepaid24. This feature allows you to have funds ready for your product purchases without having to log into your online banking. You can top-up your SmartFund via EFT payments, or by means of a Credit Card top-up. The SmartFund is a popular option for clients, as it allows for instant product delivery.
Credit Card payments
The Credit Card payment facility is available for SmartFund top-ups ONLY. You will be able to top up your SmartFund by providing your Credit Card details, and your details will be saved in your secure MyPP24Profile where you will be able to top up your SmartFund if need be.